Debit Cards
Debit Cards
Verified by Visa protection.

Debit card accepted anywhere that Visa Debit Cards are accepted.

Debit card daily limits at the point of sale are $2,500 and $500 at the ATM.

ATM card daily limits are $200.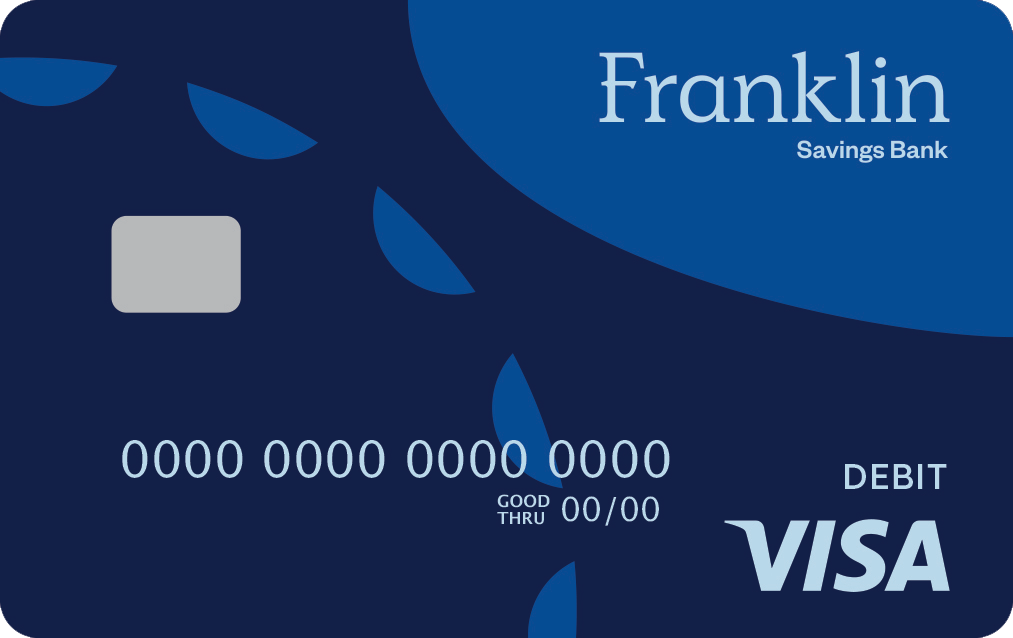 Your Franklin Savings Bank Visa Debit Card allows you to write an electronic check as easily as making a charge on a credit card, without adding to your credit card debt. Funds come from your checking account, just as if you had written a check. Your Debit Card does double-duty as an ATM card that gives access to your checking and statement savings accounts 24-hours a day at thousands of ATM machines all over the world.*
Should your card be lost or stolen, you can rest easy knowing that your Franklin Savings Bank Visa Debit Card has limited liability, so long as you notify us as soon as possible.
* ATM access to statement savings accounts is limited in some countries.
Keep Your Payments Processing With Visa Account Updater
Visa has announced a new feature for your debit card, the Visa Account Updater. This new feature will help keep your recurring debit card transactions flowing, even if your debit card information has changed. Card updates are provided to merchants to prevent recurring payments from being declined. These recurring payments are often for membership dues or utility payments and could present problems for you if the payment is declined.
Your card information might be changed for several reasons: It could expire and be renewed, or it's lost or stolen. Until now, these changes were not reported to the merchant, and your payment would simply be declined.
Benefits to You Include:
Minimize payment disruptions due to card changes.

Reduced need for customer intervention when card information changes.

Seamless update process for participating merchants once new or reissued cards are received, which reduces the likelihood of service interruptions for recurring payments.
Please be aware: Cardholders are still responsible for following up with merchants in order to ensure they automatically receive the updated card information through the account updater service or to provide updated information.
Your card has been automatically enrolled in this new service. If you choose to opt out, your recurring payments will be rejected, and you may have services terminated. You may opt out of the Visa Account Updater service by contacting us directly.
Debit Card Resources
Activate your ATM or Debit Card
To activate your card or change your PIN, call 800-757-9848.
If you need assistance with this, please call 800-287-0752 during regular business hours.
Debit Card Fraud Protection
To protect your account, we monitor your debit card transactions for potentially fraudulent activity which may include a sudden change in locale (such as when a U.S.-issued card is used unexpectedly overseas), a sudden string of costly purchases, or any pattern associated with new fraud trends around the world.)
If we suspect fraudulent debit card use, we'll be calling you to validate the legitimacy of your transactions. We wish we could call you personally, but we believe it is more important that we can respond quickly to help protect your debit card from fraud 24/7. Your participation in responding to our call is critical to prevent potential fraud and avoid restrictions we may place on the use of your card.
Our automated call will verify your identity by asking for your zip code.

Our automated call will describe transactions and ask you to verify the recent transaction activity on your card.

You'll be able to respond via your touchtone keypad.

You'll also be provided with a toll-free number to call should you have additional questions.

The automated system may transfer you to a fraud analyst if you confirm fraud or for further information. The analyst will verify you by asking your name and last 4 of your Social Security Number (SSN).
Our goal, quite simply, is to minimize your exposure to risk and the impact of any fraud. To ensure we can continue to reach you whenever potential fraud is detected, please keep us informed of your correct phone number and address at all times.
Protect Yourself
In the meantime, please be diligent in monitoring transaction activity on your account and contact us immediately if you identify any fraudulent transactions. Here are some additional tips on protecting yourself from debit card fraud.
Unless absolutely required for a legitimate business purpose, avoid giving out your:

Address

Phone number

Date of birth

Social Security number

Card or account number

Card expiration date

Your PIN is private; never give it out.
In stores and at ATMs, always cover your card and PIN, and watch for:

Cell phone cameras, mirrors, or other tools used to view cards and PINs.

People watching your transactions.

Cashiers taking your card out of sight; take it to the register yourself.

Any unusual activity at ATMs; if you feel uncomfortable, go to another ATM.
Online, you should never respond to unsolicited emails that:

Ask you to verify your card or account number; such emails are not sent by legitimate businesses.

Link to websites; such sites can look legitimate but may collect data or put spyware on your computer.
Problem Solving
Please be aware: In our continued diligence to protect your accounts, transactions made with your debit card will be evaluated for risk, based on certain trends in card fraud. While unlikely, there is a possibility a legitimate transaction you have authorized may be declined. Should this happen with a signature-based transaction, please re-try the transaction using your PIN instead or give us a call.

If your issue arises after business hours, you may reach our fraud center directly at (800) 262-2024. If you have been contacted by our fraud center and have been assigned a personal message code, please call (866) 750-9107.

If you see suspicious activity in your account and/or you have reason to believe your card number has been compromised, call us IMMEDIATELY. If it is after normal business hours, call Visa directly and report your card stolen. Contact us as soon as possible afterward. Find out more about reporting a lost or stolen ATM-Debit card.