Commercial Lending
Commercial Lending
Full-Service Commercial Lending.

Perfect Fit Small Business Lending.

Fast Local Decisions.

SBA Express Lender.
Our Commercial Lending department will tailor-make a lending package to suit your business needs big or small. At Franklin Savings Bank, lending decisions are made locally by people you know. Our lending officers have deep roots in the community and are well-acquainted with local markets and local people. Because our decisions are made locally, you will get a decision quickly.
Franklin Savings Bank has lending solutions to address the diverse needs of our business customers, including commercial real estate (to purchase, expand or refinance); equipment lending (including commercial marine lending); and working capital lines of credit. We are experienced at bringing the right resources to the table and enjoy active partnerships with the Finance Authority of Maine (FAME) and the Small Business Administration as a SBAExpress Lender.
Listen to What Our Customers Say
Dorr Lobster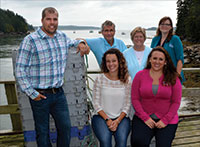 Behind the Dorr Lobster Company is the Dorr Family. In the 40 years they've been delivering fresh Maine lobster worldwide and locally from their markets in Milbridge, Ellsworth, Bangor and Steuben, they've found that relationships matter, for their customers but also their bankers. That's why they Bank with Frank.

"They're so friendly and have a downhome attitude. We know we can count on Amanda to take care of us 24/7," says Lynda.
"At Franklin Savings Bank, they're real people. Everyone I've met from the president on down takes the time to talk to you like a person," says Ricky.
The Dorr family: Chad, Stephanie, Richard and Lynda with FSB's Amanda Look and Nicole Lovely.
Merrill's Garage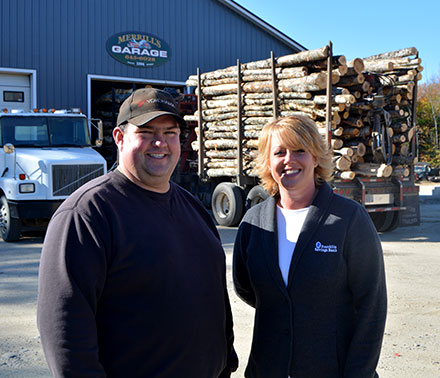 Justin Merrill has three good reasons to Bank with Frank: "Localness, Community Involvement, and Responsiveness."

As the new co-owner of Merrill's Garage with his father, George, quick response to tight timelines helped them get the deal done and make a business dream a reality. As a lifelong resident of the Jay area, Merrill loves that the bank and its employees give back to the community. "I like it when people know my name," he says. "I'm very happy with FSB and recommend it very highly to my friends and business associates."

Justin Merrill of Merrill's Garage with FSB Commercial Lender RaeAnn Pike.
Big Sky Grill & Company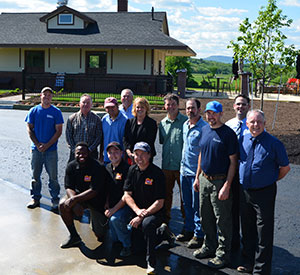 John Moore had Big Plans for his Big Sky Grill and Drive-In that opened this summer. So it makes sense he'd call in the best contractors to bring it to life. Not surprisingly, they all Bank with Frank.

Robert Zundel likes knowing who he banks with. "I like going in and knowing the people. They are always friendly and know who I am."
• John Moore with Marshall Cassidy and Kindle Bonsall, Big Sky Drive In and Grill.
• Robert Zundel, Tree Line Landscape, Inc.
• John Bell, Sandy River Builders, Inc.
• Robin Harnden, Robin's Welding & Metal Works.
• Michael Carleton with Brent Tripp, IEC Electrical.
• John Ripa, Ripa Stoneworks, LLC.
• Kevin Vining (not pictured), E. L. Vining & Son.

With FSB Commercial Lenders Mike Mansir, RaeAnn Pike, Derek Hayes and Rich Allen.
Main-Land Development Consultants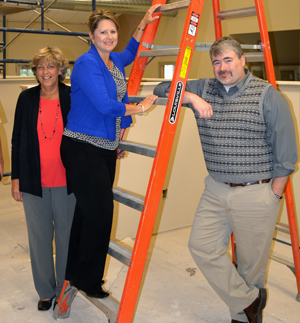 A growing business needs a responsive bank. Main-Land Development Consultants doubled its size over a two-year period and was bursting at the seams of its old location. The civil engineering firm renovated the old Murray Hall in Jay into a new office building with room for staff, seminars and future growth.

FSB made it easy when Robert Berry acquired the business. "After that, it was just knowing the people. When it came time to do this project, I just came to talk to Mike," said Berry. "Why would I bank anywhere else?"

Robert Berry III and Angela Pinkham of Main-Land Development Consultants with FSB's Diane Jackson.
Randy and Brody Cousineau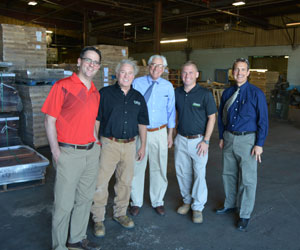 Managing a portfolio of commercial properties while running a busy lumber business can present complications. For Randy and Brody Cousineau of Cousineau Wood Products, having the mortgages at Franklin Savings Bank presents one less complication.

"Franklin Savings Bank is the best anywhere. They are local and understand what I do. So many don't know what a sawmill is or know about the different seasons, … the highs and lows of the business," said Randy. "They have 100 percent of my properties."
Randy and Brody Cousineau of Cousineau Wood Products, with FSB's Derek Hayes, Peter Judkins and Tim Thompson.
Keep Corner Café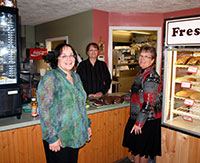 Whether you are hungry or just want to find out what's up in town, folks in Rangeley know to go to the Keep Corner Café. Where does the Keep Corner Café go for help with business questions?

"It's so nice to know that you can call someone up and you get all the information you need without a lot of trouble," says Stephanie Keep, of her business relationship at Franklin Savings Bank.

"They're so nice there. It's like a big family. They are a wonderful team, they really are."
Stephanie Keep, owner of Keep Corner Café with FSB's Crystal Haley and Leeanna Wilbur.
Talk to a Lender
Fill out the form below and a member of our team will be in touch to help answer any questions you may have!